Eschelon Merchant Services ISOs & Agent Program
Are you looking for a new payment processor to partner with? Bring your merchants to EMS and experience what a difference our innovative technology and best in class customer service will do for the growth of your business. Whether you are an independent agent or running a fully functioning ISO, we have a customized program that will increase your sales and allow you to earn more money. Not only will you be able to take advantage of competitive residual splits with revenue sharing on all interchange levels, you will also be able to increase your revenues with our ever-growing list of proprietary products and services.
Sign up today and take advantage of the following benefits:
Industry's leading portfolio management tool with the ability to create sub-agents and track their residuals. Perfect for the one man agent office or the large ISO. Our technology gives you the tools to streamline your operations.
Competitive residual splits & revenue sharing on all interchange levels
Proprietary virtual terminal & POS system
Proprietary iPod & iPhone processing application
Multiple payment platforms
Split fund relationship with over 10 Merchant Cash Advance companies
Dedicated agent support staff
Multiple leasing options
Tier I (low risk) & Tier II (high risk) processing solutions
No risk or liability
Merchant account approvals within 3 hours
Non-Exclusive agent agreements
Competitive residual buyout options
Free website for generating leads
Our Agent / ISO program is suited best for those who have previous experience in the credit card processing industry. We do provide ongoing training and sales support but require that you know the basics of the industry.
One of the greatest benefits of partnering with Eschelon is our Portfolio Management and Boarding System:
With this advanced tool you are able to:
Submit application and Track Status of your new applications
Fast application Decisions (same day approvals)
Check Customer Service, Risk, and Underwriting Notes on all of your merchants
Track daily processing volume, ACH's, chargeback's, and other indicators on your entire portfolio
Run detailed compensation analysis on an individual merchant to assess profitability
Create and manage sub portfolio's for your down line agents
Submit and track customer service tickets
All your most important statistics in one easy to read dashboard:
Track your 12 month rolling processing volume & boarding figures
See a breakdown of your portfolio by business type, SIC code, & statuses
See boarding & financial statistics
View your top 25 merchants by volume
Important information you need at your finger tips
State of the art pipeline management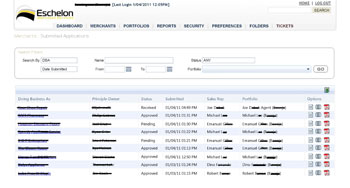 Submit your applications online
Track your approved, pended, and declined merchants
Convert applications to PDF to email or fax to your merchants
Track deals by sales reps or sub portfolios
Detailed Reporting for your portfolio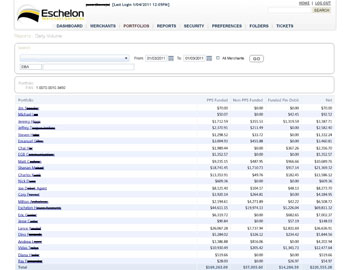 See previous merchant statements
Run reports on individual merchants or entire portfolio for any specified time period
Online Residual Reporting with drill down access to see every level of income and expenses
View customer service, risk , and underwriting notes with a click of a button
Submit & track customer service tickets
Everything you need to expand and manage your business: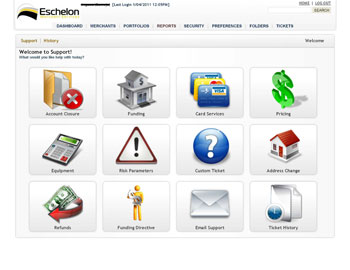 Industry leading online portfolio management system
Cutting edge technology for you and your merchants
Top ranked customer service
Aggressive revenue sharing splits
Training & support to expand your business
Call Us Today: 1-877-449-4285
Interested in teaming up with Eschelon Fill out the form below to get more info: